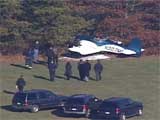 A plane overshot a runway in Bayport on Monday, but the one person on board managed to walk away unharmed.
The FAA says the single-engine plane was forced to land on a grass strip at the Bayport Aerodrome off Montauk Highway. The pilot was apparently having mechanical problems.
The plane is registered to 30-year-old Michael Muratore, of Holbrook. It is not known if he was the person flying the plane.
This article was reported by News 12 Long Island, www.news12.com/li
Read more...